Starting an online store that sells digital products and services is one of the intelligent ways to make money. In our previous blog, we have shared the top 6 WordPress eCommerce plugins you can use to build an online store. There we have mentioned about one of the most popular eCommerce plugin- Easy Digital Downloads (EDD), the free e-commerce WordPress plugin that makes selling digital goods easy. In this article, we will show you how to set up an online digital store using EDD.
What is Easy Digital Downloads?
Easy Digital Downloads is a complete eCommerce plugin exclusively available for selling digital products on the WordPress website. It is this aspect that sets EDD apart from all the other eCommerce plugin.
In fact, Easy Digital Downloads is best suited for an online platform that sells non-physical goods like e-books, songs, videos to bookings, orders, reservations, etc. If we compare Easy Digital Downloads with WooCommerce, EDD undeniably has dominance when it comes to the sale of digital goods.
The plugin was developed by Pippin Williamson, a WordPress developer and the man behind several popular plugins, including AffiliateWP and WP Simple Pay. Easy Digital Downloads is not only dedicated to those who are planning to start a conventional online digital goods store. One can also combine this plugin with various other plugins. You can use add this plugin to deal with the payment part of your site while using other plugins to add the appropriate functionalities. Similarly, there are many reasons why your store might want to use EDD. If you want to learn it in detail, refer our article on Why EDD is considered as the best plugin to sell digital goods.
How to set it up?
Now that you have got a brief summary of the EDD plugin, let's get into how to set up and use the plugin.
Step 1
The Easy Digital Downloads plugin is available at WordPress.org, so you can type the plugin name, install and activate it right from the Plugins option in your dashboard.
Step 2
Once step 1 is over, the first thing you will have to do is configure the options for checkout, payment, redirects, etc. EDD has automatically created pages in your WordPress site for checkout, Purchase history, etc.
So, in order to change these basic settings, go to Downloads >Settings where you can see 7 different tabs containing the basic settings.
General: to change the location, currency, etc.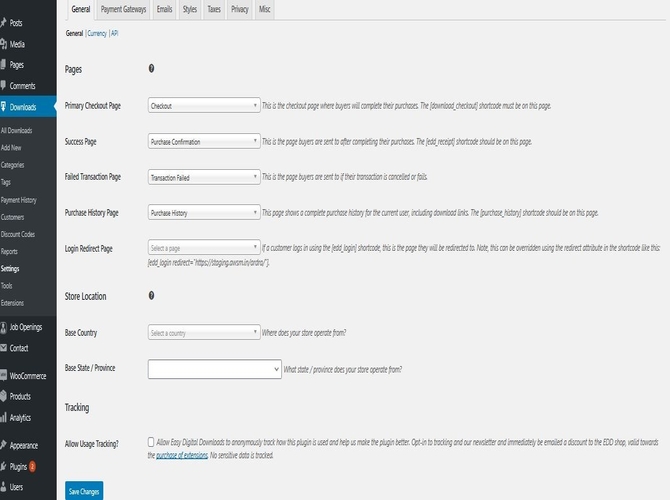 Payment Gateways: to select which Payment gateways you want visitors to use for payment transactions. By default, PayPal, Amazon, and test payments are your choices. If you're using PayPal, click on the PayPal Standard option under the Payment Gateways tab. You can also purchase premium extensions to use other payment gateways.
Emails: the automatically generated email that is sent to both shoppers and store administrators such as purchase receipts. You can also set a logo for your store and product.
Styles: to give you control over how your store looks such as styling of buttons, checkout fields, etc.
Taxes: if you want to calculate tax rates.
Privacy: mainly deal with when and where your privacy policy is displayed.
Misc: to control the number of cart items, forcing a redirect to a secure checkout page, whether users need to be logged in to make a purchase, etc.
Now, if you do not want to change any of these settings, the only thing you have to do is to provide your country and state name, then click on 'Save Changes'. For many stores, none of these actually needs to be changed.
How to add your first product?
After completing the configuration process, the next step is to add your digital downloadable files to your WordPress online store. Easy Digital Downloads refer to every item as a "download", but we consider these "download" as our products.
Step 1
To add your first product, go to Downloads > Add new. An interface will appear in front of you that looks similar to a normal WordPress editor.
Step 2
Name your digital file and write a small description on the product page.
Step 3
When you scroll down, you will see more options to configure the price, category, images, etc of your product. You can also enable Variable pricing to enable different price packages for the same product mostly in case of software products where people can pay depending on licenses they want to use.
Step 4
You are now ready to upload your digital file, whether it is a .zip, .pdf, .mp3, etc. You also have the option of defining how many times the file can be downloaded. Once you're ready, you can preview or publish your download. Repeat the process for all of your other products.
Extending the plugin
As mentioned, the EDD core plugin is free of cost. But in most cases, you will need to extend the core plugin with some free or premium extensions. The two ways by which you can easily extend the plugin functionality are:
By selecting a suitable theme: Your theme will decide how your store would look. It helps you to get more shoppers if the appearance of the site is quite attractive. Some themes provide you with additional features such as cross-browser compatibility, threaded-comments, shopping cart icon that enables visitors to see the cart items without reloading, and so on. While Easy Digital Downloads go along with any WordPress themes, it has its own gorgeous themes that are built precisely for the plugin.
By using add-on plugins: These plugins help you to include new functionalities like new payment gateways, recurring payment support, etc to your store. You can find both official add-ons from the Easy Digital Downloads team, as well as add-ons made by third parties. Some add-ons are free, while others will cost money. Installing an add-on plugin is the same way as installing a regular plugin. Download the plugin, go to Plugins > Add New and upload the zip file. Once you click on Activate, the add-on plugin will start functioning on your site. 
Wrapping Up
Easy Digital Downloads is undoubtedly a groundbreaking solution that focuses on everything you need, to sell virtual products online. Therefore, if you are planning to create an online digital store, there is no better option than this plugin.
With this article, we believe that we have provided an in-depth guide on how to set up an online digital store using Easy Digital Downloads for the first time.
Some Frequently Asked Questions
What is Easy Digital Downloads?
Easy Digital Downloads is a WordPress eCommerce plugin developed by Pippin Williamson. It focuses on digital goods, is very user-friendly and works seamlessly with WordPress.
What is the cost of Easy Digital Downloads?
EDD is a freemium-model plugin. The original plugin comes 100% free and can be extended with more features by purchasing addons from EDD website.
Why choose Easy Digital Downloads?
EDD focuses purely on simplifying the selling of digital goods in online stores. It is a light-weight plugin that is fast right out of the box. It is very easy to use and has a very vibrant team behind it to support you. It has very good documentation too.
Should I purchase extensions?
Not necessary. As a beginner, you will find that EDD works fine by itself. Extensions are entirely optional. With the growth of your website later, you can think about them to extend the functionality of your eCommerce store.