Google has unveiled a new WordPress plugin called Web Stories for WordPress. It enables the creation of content that is full-screen, visually rich, engaging and mobile-friendly. It is a boon for publishers and those with less technical skills to produce stories quickly and easily and take advantage of Google's Web Stories.
Google Web Stories – Snackable stories for everyone
Powered by AMP technology, Web Stories are tappable, engaging visual stories brought to the web. It taps the widespread usage of mobile devices and strives to provide users with fast-loading full-screen experiences.
In this fast-paced world, most people don't have the luxury to devote long hours to any activity except for their careers. Web Stories targets such mobile users who skim through content at a glance or nibble on snackable content.
Web Stories are characterized by immersive storytelling techniques, robust advertising support with affiliate links, fast loading times and analytics support. They can be shared and embedded across the web without any platform restrictions.
Being an open-source, Web Stories is free.
Google Web Stories WordPress Plugin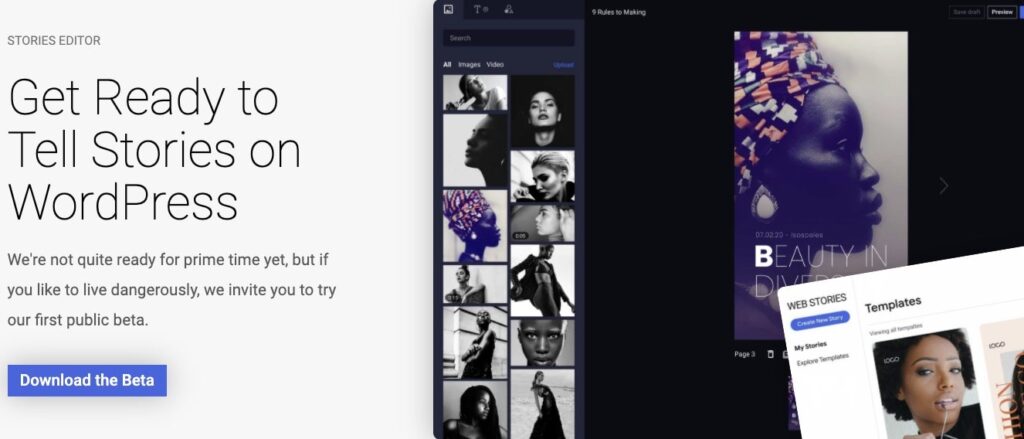 The Web Stories plugin is an attempt to bring premium Web Stories support to WordPress. It provides an innovative way for publishers to increase traffic and SEO metrics like link building, bounce rate and average session duration.
The Plugin focusses on creating visually pleasing custom content with WordPress. It has a dashboard for editing stories, custom URLs and drag-and-drop editor. The editor gives the feel of a much-simplified Photoshop or GIMP.
Instead of custom blocks, the Plugin has a custom "web story" post type. This helps the visitors to easily subscribe to stories via feed reader or third-party email system and create a custom story-publishing process. The plugin is supported by Google Ad Manager and Google DV360 (Beta) which enables publishers to invite users to sponsored web pages directly through the stories.
The plugin is developed keeping in mind the simplicity of WordPress. The Design and Document tabs are on the top right side of the screen and Media Library on the left. The Design tab has options to edit the selected layer while the Document tab has options for publishing. To select any layer to edit, there is a Layers box at the bottom. There are eight expressive templates for users to choose from including Travel, Beauty, Fashion and Entertainment.
Web Stories are for everyone – site owners, content creators, or publishers on the web. Embracing the Web Stories format would be great as a way to enhance the quality of your content strategy, the value you bring to your readers, and consequently your chances of achieving sustainable success.