We are happy to introduce Mark Zahra as the WP-Professional of the Month. He is the CEO of RebelCode – the team behind WP Mayor, WP RSS Aggregator, and Spotlight Instagram Feeds.
Just like our previous guest Miriam Schwab, Mark Zahra does not come from a technical background. He was studying architecture when he realized it was not his calling and turned to web development and coding. The rest is as they say history. Our readers would remember him as the man behind the amazing plugin Spotlight Instagram Feeds – which was our Plugin of the Month (November 2021) Now he shares with us his WordPress journey and the plugins he is working on.
You can connect with him on Twitter and Linkedin.
How did you get introduced to WordPress? Can you please explain the journey, especially the beginning in WP Mayor?
The first time I touched WordPress was when I became part of my field hockey team's committee and was tasked with updating the website. It was built with WordPress and became my first experience messing around with plugins and themes.
A couple of years later I started learning some basic HTML and CSS since I had dropped out of university where I was studying architecture. During that summer I met with Jean Galea, WP Mayor's founder and my cousin. We got to speak for the first time in a while and that led to me writing a couple of posts for the blog.
Please share with our readers something about the projects you are involved with, especially about your super plugin Spotlight.
Our company, RebelCode, focuses on 3 main WordPress projects.
The first is WP Mayor, one of the oldest and most popular WordPress blogs around. We've been working on this site for more than 11 years now and it has remained a family affair with Gaby, Jean's sister, joining the team in 2020.
We then have two plugins. The first is WP RSS Aggregator, the top RSS importer for WordPress with some 70,000 users. It's a brilliant tool for new aggregators and content curation, be it for articles, podcasts or videos.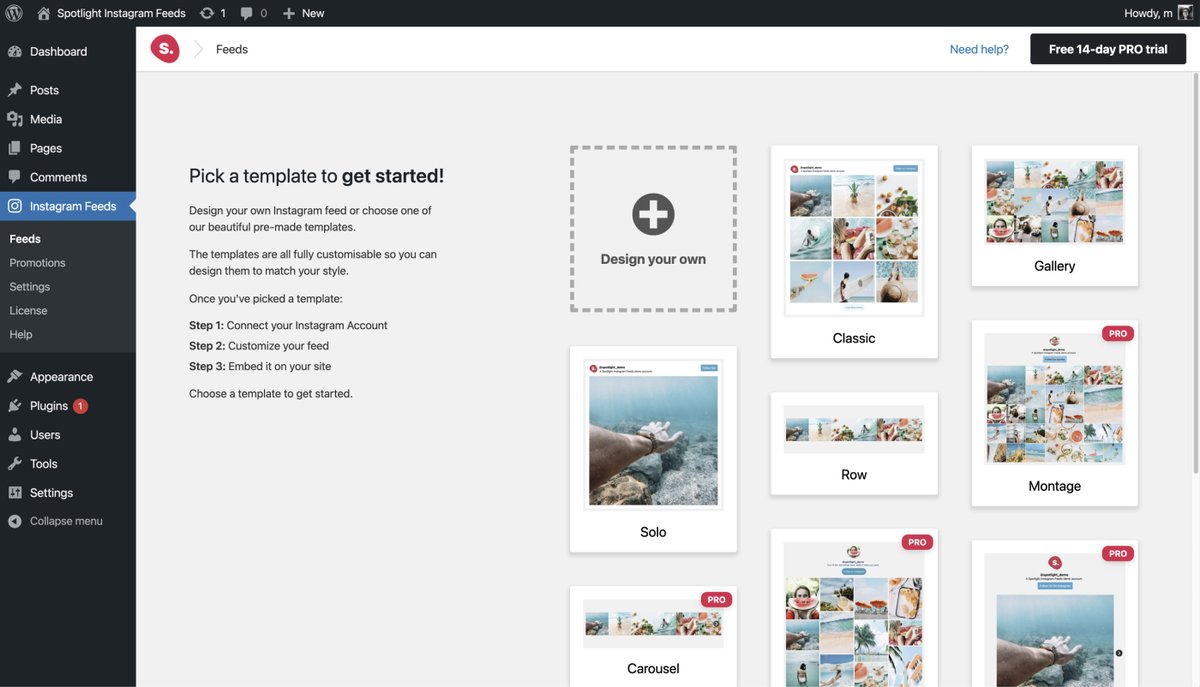 Our latest project is the one you mentioned – Spotlight Instagram Feeds. We started working on it in 2020 and launched it on the WordPress repo in June of that year. In just 18 months it grew to over 30,000 users and has become the fastest-growing Instagram plugin. It's great for anything from a simple Instagram gallery to a link-in-bio solution or a shoppable feed.
Where are you based? How your location influences your work?
I'm based in Malta, a small island in the Mediterranean sea. I typically work from my home office but sometimes I'd visit cafes or co-working spaces. I wouldn't say that location really influences my work other than having a quiet place to really focus on my work.
What makes WordPress so special to you?
There are two parts to WordPress that I've appreciated the most over the years. As a platform, WordPress is a very flexible solution that allows for a lot of creativity to flow. We've seen that in the variety of plugins and themes that have grown and flourished over the past few years. As a community, it's been fantastic for me personally.
I'm an introvert who struggles in most social situations, but the openness and support of the people I've met in WordPress have helped me gain more confidence and become a better person.
How all have you contributed to WordPress? Show off your contributor badges.
I don't have any contributor badges to speak of but the work I've done with our team through WP Mayor's blog, our podcasts, and our plugins has been a great way ox`f giving back to WordPress as a whole, not to mention being Media Partners at a number of WordCamp EU events.
What new features would you like to see introduced in WordPress? especially in Gutenberg?
Let's just say that I'd like to see the block editor and full-site editing become more robust and stable. I've enjoyed using blocks for the most part but there are still a few quirks that hold me back.
What is your favorite a) Plugin b) Theme c) Web hosting? and why?
I wouldn't say I have a single favorite of each, so I'd recommend that anyone reading this goes to wpmayor.com to see what we recommend there 🙂
How do you keep abreast of the developments in the WordPress field? Which all resources do you rely on?
This is where owning a plugin like WP RSS Aggregator comes in handy! We curate WordPress news internally from multiple sources so I like to keep an eye on things that way. Aside from that, I follow a few Facebook groups and browse Twitter.
What are your thoughts on the future of WordPress & Gutenberg?
It looks promising. Still ways to go, but it seems like it's moving in the right direction.
What advice would you give a WordPress beginner?
For someone about to use WordPress for the first time? Don't trust everything you read online. Find a few reliable sources and focus on real recommendations.
If we're talking about beginners in the WordPress business sense, find people you admire and ask what mistakes they made that they wish they avoided early in their careers.
As a man involved with several plugins, please share some marketing/pricing tips.
1. If you're priced lower than your competition, find a way to price yourself higher and provide more value. A race to the bottom never works out for anyone.
2. Build up your content marketing efforts, both on your own blog and on reputable WordPress blogs – WP Mayor being just one of them. It will pay off in the long-run.
3. Experiment as early as possible and don't be afraid to be wrong. It's much simpler to change your pricing strategy or alter your product when you have a few thousand users.
What do you think about the latest acquisition saga in WordPress?
WordPress is maturing so it was bound to happen. I've written about this on WP Mayor and my thoughts haven't changed. As long as you keep an eye out for new opportunities, there's still room for new players to compete with the larger ones.
What are your thoughts on WordPress meetups and WordCamps?
They're great for networking and building stronger relationships.
The WP-Content team wishes all the very best for his future endeavors and hopes to see him with more wonderful WordPress products.