SEO or Search Engine Optimization is increasing the quantity and quality of traffic to your website to make it rank higher in search results through organic search engine results. By optimizing your WordPress site and content, you are increasing your chances of being located by people who are looking for information about products and services related to yours.
Why bother about SEO?
The best place to hide a dead body is page 2 of Google search results.
Search Engine Optimized websites with authentic data and good backlink profile always rank high in search results. So let's look at those points which will help your site achieve more traffic and hence more business.
1. Make your website visible for Search Engines
WordPress has an option to hide your website from various search engines. If you have turned it on while developing or updating your site, turn it off. You can do so by clicking on Setting in the dashboard and selecting Search Engine Visibility
2. Get an SSL certificate
SSL (Secure Sockets Layer) is a global standard security technology that enables websites to move from HTTP to HTTPS which is more secure. It is used widely in websites handling sensitive information for example eCommerce sites accepting credit cards since it enables encrypted communication between a web browser and a web server. For SEO purposes, security is a ranking factor. So it is good if you can get an SSL certificate for security reasons and also gain user trust. WordPress.com automatically adds SSL to your site but if you have a different type of account, such as a WordPress.org site you can install SSL plugins for the same from WordPress directory.
3. Choose a reliable hosting provider
Your SEO ranking can be affected by your hosting provider since load time is a factor used by search engines for ranking. Hosting plays a pivotal role in page loading speed. Nobody is impressed with a site that takes forever to load. So you need to find a dependable host for your website based on your requirement and budget. You can go through our articles to know more about choosing hosting providers and hosting deals.
4. Install a WordPress SEO plugin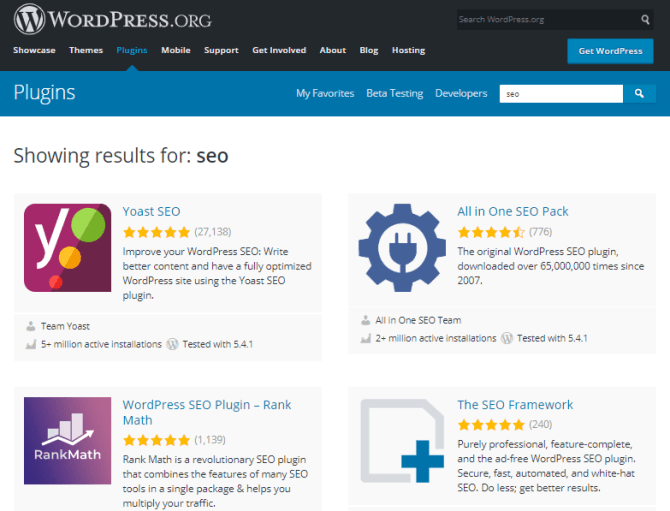 WordPress is friendly to SEO but you can always enhance its functionality and capabilities by installing an SEO plugin. You can download the plugin of your choice like Yoast SEO, Rank Math and All in One SEO Pack from the WordPress directory and install it. These plugins can assist you to optimize your titles and content with keywords, implement tags and categories, control your site's breadcrumbs and use Google Analytics support.
5. Cleanup your permalinks
Permalinks or pretty links are permanent URLs of your individual posts or pages. They affect both SEO rankings and user experience. The default permalinks created by WordPress are messy, unintelligent and not SEO-friendly. You can change it by going to Permalinks under Settings in the dashboard. Select the format of your choice and click on Save Changes.
6. Research Keywords
Keywords still play an important role in your website's rank. Research on the words your audience actually searches for and create content on topics using those words. Figure out a way to scatter the focus keyword a few times throughout the content like in headlines, title, ALT tags, meta descriptions etc in ways that do not seem artificial and awkward. Focus keyword contributes a nice share to the basic SEO. Rank Math also checks it while calculating your SEO score.
7. Use Tags and Categories
To separate a website's pages and blog posts, you can use tags and categories. Tags are like keywords to describe what a specific page or post is about. You can add new tags by going to Tags under Posts in the dashboard. Categories can broadly group your posts and pages. To create a new category, click Categories under Posts and select Add New Category. Tags and categories improve your site's SEO and user experience.
8. Add XML Sitemaps
An AML sitemap is a file of code in your server that includes individual pages of your website. It is a tool to ensure that search engines like Google can crawl your site to find and rank content. You can create it manually if you have extensive coding knowledge or you can simply install a plugin to create one.
9. Add Internal Linking
Internal links route you from one page or post on your WordPress site to another page or post on the same site. They help to increase the time people spend on your site, decrease the bounce rate and improve the site's validity. Preferably you can add three to five internal links on all posts and pages. You can add even more if the length of your content permits it.
To add internal links, first, highlight the words where you want to insert the link, then click the link button in the toolbar and copy-paste the URL you want to link. It is a good habit to interlink your content every time you publish new content.
10. Provide External Links
External links improve user experience by providing a chance to get more information if they choose to do so. It also helps your WordPress SEO by letting search engines know that you are linking out to high-quality content that is relevant to yours. It increases the validity of your website and creates trust with your readers.
11. Optimize title tags and meta description
Title tags are HTML elements that specify what the web page title is and help search engines to read your title. They are the first things users see when they enter a search query so make it right to create the perfect first impression. You can optimize the title tag with the correct length (50 – 60 characters), right keywords and unique titles.
Meta descriptions are HTML attributes that summarize your web page. Search engines do not use them in their ranking algorithm directly but they affect your site's Click Through Rate (CTR) by luring users to click on your post. Higher the CLR, higher is the ranking of a page. The meta description should include your focus keyword and explain about your article in less than 160 characters.
12. Optimize your images
Including images in your content is a great way to improve user experience and maintain user's attention. You need to give proper Alt text and filenames for your images. The website visitors won't be able to view the Alt text unless the images fail to load on a device but search engines use it to understand the subject matter of an image. If possible, use your focus keyword in your Alt text. You can add Alt text to an image without having any coding knowledge. Select an image from your Media Library and type it or click an image within the WordPress editor to add Alt text.
13. Aim for longer Word Count
Longer content scores better ranks than shorter content. So make sure your content is long, relevant, useful and entertaining. Your content should be backed by facts and grammatically correct. Grammarly is a powerful tool you can use to find errors. To avoid scaring away the readers with your long articles, use a table of contents, short paragraphs, tables and graphs, images and diagrams, listings, headings and subheadings, to structure your content. You can give an attractive title with power words, an introduction on what the article is about, elaborate the points and then summarize it in conclusion.
14. Shorten URL
WordPress automatically creates a URL for your posts based on their titles. But it is too long, you must shorten it. Short URLs always have an advantage over longer URLs. You can edit your post's slug from the permalink settings. In classic editor, it appears directly under the post's title and in the block editor, it is at the top of your heading block or under Permalink in the Document tab at the right-hand sidebar.
15. Be Mobile Responsive
Today more people use mobile than a laptop or desktop to browse websites. Google also has taken this mobile-dominant trend into account in their search engine indexing making it all the more important for you to have a responsive website design. Google's mobile-friendly tool can help you to check if your WordPress site is mobile responsive.
We have shared some of the strategies we have used to get real results. We are sure that by implementing them, you'll be able to improve your site's organic traffic and SEO ranking. If you need any help, please post your queries in the comment box below.