Elementor is a WordPress Page Builder plugin that offers users a unique web designing experience. It is one of the most feature-rich page builder plugins that you would ever find. Ever since its introduction in 2016, Elementor has completely taken over the WordPress industry.
Elementor Page Builder offers ready-made templates for users to apply on the website and get started. It gives you the freedom to personalize all the features with its styling capability. Therefore, you are able to show off your creativity and come up with your own unique ideas. But if you want to unlock even more design potential, there are a ton of great third-party Elementor add-ons that extend the core plugin even further.
Most of these add-ons give you a variety of new Elementor widgets to use in your designs, while some also add new functionality or new design options for existing widgets. Presently, there are hundreds of Elementor addons available in the marketplace. So, you definitely have tons of options to choose from and start using the right extension for your website.
In this post, we have collected our favourite free and premium Elementor add-ons to help you find the best of the best.
Ultimate Addons for Elementor is a widget-packed add-on set. It is developed by Brainstorm Force, makers of the Astra theme that so many Elementor sites use, as well as the Ultimate Addons for Beaver Builder plugin.
Currently, Ultimate Addons for Elementor offers 40+ new Elementor widgets, with more on the way. Among the 40 widgets, you'll get new content widgets like content toggle, timeline, video, modal popup, etc. You can use its Modular Control to keep your site fast. On top of that, Ultimate Addons offers the WooCommerce & Post widgets to nicely display all your products/contents on your website. And beyond that, you get form stylers for both Contact Form 7 and Gravity Forms.
You can preview any of the widgets by clicking on the Widgets menu option and then selecting your desired widget. Ultimate addon costs $55 for a one year license or $249 for a lifetime license.
Also read: Best A/B Testing Tools For WordPress
With Master Addons for Elementor you can design modern layouts for your website. This free plugin adds more than 40+ new blocks and 100+ ready to use templates for you to build unique and stunning pages. With its image galleries and news ticker you can include magazine style sites. All types of team member modules, timeline and progress bars display the staff accomplishments and abilities. You also get 30+ new custom widgets, including table of contents, team members slider, gallery slider, animated headlines, and lots more.
Master Addons has a consistent development with new features. These include comment form builder, footer and header. Custom breakpoints help in defining the exact pixels that make your website responsive for multiple devices. The premium version starts at $29 for a one-year license and use on a single site or just $49 for a lifetime license.
Exclusive Addons for Elementor is an open-source free WordPress plugin. You can design modern web layouts with Elementor and the Exclusive Addons plugin. With both installed, you will have more than 31+ additional page builder blocks at your disposal. Exclusive addons come with an Elementor widget you're sure to love. Use the Image Magnifier or Image Comparison blocks for your portfolio. Or add a unique Post Timeline block to your about page.
Also, there are plenty of blocks you're familiar with for a Call to Action, Team, Contact Form 7, Headings, Post Grid, Pricing Tables and more. The Pro version of the plugin adds advanced modules for Breadcrumbs, Animated Shape, Image Hotspot, Instagram Feed, Off Canvas Menu, Content Switcher, News Ticker, plus more.
Stratum is an Elementor extension from popular developer MotoPress. It comes in both a free and a premium version and it focuses on offering really solid foundational widgets, rather than getting into the more unique widgets that some other tools offer. In reality, the Stratum is a freemium collection that lets users try any of its 20 widgets at no cost, while only a few functionalities for each widget remains premium.
Even with a free version, you can use the most essential and demanded widgets, such as Advanced Slider, Advanced Google Maps, Advanced Posts, Instagram, Advanced Accordion, and more. The plugin will help you work faster since it easily inherits the styles of your current WordPress theme to ensure design consistency sitewide out of the box.
The premium version starts at $29 for a one-year license and use on a single site or $59 for use on unlimited sites.
Also read: Best Help Desk and Support Ticket Plugins for WordPress
Essential Addons is a huge pack of Elementor widgets that comes in both a free and premium version. It enhances your Elementor page building experience with 70+ creative elements and extensions. You can add powers to your page builder using their easy-to-use elements that were designed to make your WordPress pages and posts prettier than ever before.
The free version is popular, well-rated, and gets you access to 40+ new widgets, including many widgets that you'd otherwise only get in Elementor Pro like post grids, post timelines, testimonials, and more. To get your hands on more advanced & extraordinary features, you can also try out Essential Addons Pro. With that, you'll get 29+ more widgets such as post blocks, interactive promo etc.
PowerPack is an elementor addon that contains a bunch of Creative elements. The plugin is developed by the same team behind the PowerPack add-on for Beaver Builder. Every PowerPack widget is built with a special focus on user experience, creativity, and flexibility. In total, PowerPack adds 70+ unique, creative and useful widgets which are divided across the following categories: form stylers, creative widgets (the biggest set), and business-critical content widgets.
Just like the Essential Addons for Elementor, PowerPack ships with a few dedicated form styler widgets for Gravity Forms, Caldera Forms and the others. This addon is a true gem for creative projects since it's not just packed with the biggest number of widgets of this kind, it also offers vibrant design skins for each widget.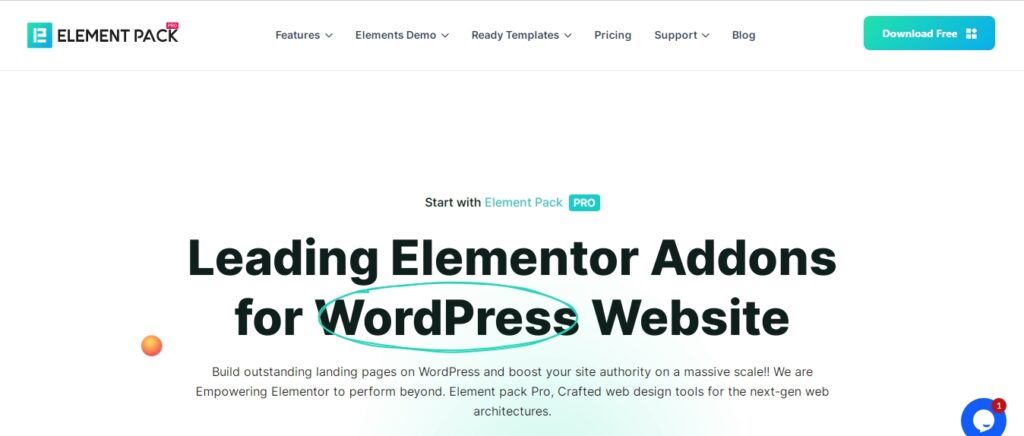 Element Pack Addons offer a host of essential elements that are aimed that enriching the web-building process. From an ever-growing template library to widgets and extensions, everything that is needed to create a truly unique website is there. It is intuitive, easy to use, and simplifies the web creation process and offers over 67 elements and various core widgets, extensions, and features that are free for lifetime.
There is also a premium version that offers more and the features list is staggering. If we go by numbers then it offers, there are over 285 widgets, 315 plus ready pages, 1800+ ready blocks, and more. 
Livemesh Addons for Elementor features a huge collection of premium, easy to use yet highly functional extensions that can be used in a Elementor page builder. The clutter-free, minimalist design concept of the Livemesh Addons will be a grand starting point for creative portfolios and business websites. The free version comes with 15+ new widgets such as blog post grids, pricing plans, etc plus a new heading styles option that you can use.
The Pro version adds another 19+ widgets like responsive tabs, FAQs, flat style buttons etc. Every premium page builder element you need is available for easy drag and drop into your page by just activating this plugin. The pro version costs $37/year for use on a single site, $69/year for use on upto 5 sites, or $99/year for use on up to 25 sites. Also a $199 lifetime deal for use on 25 sites.
Also read: Best GDPR Plugins Compared
Mighty Addons is another great option to extend the popular Elementor page builder. The plugin offers ready to use block, section and template kits – all of which are easy ways to fast track your web design. It is highly responsive and mobile-friendly. You get all the responsive controls so you can control how a section or element should look on the mobile device.
The free version includes Elementor blocks for accordions, button groups, before/after images, Contact Form 7 integration, counters, flip boxes, gradient headings, MailChimp integration, open hours, progress bar, team and testimonials. There are also free extensions for Pixabay image integration, custom CSS, wrapper link and a unique cross-site copy paste. You'll get 18+ new widgets in the free version and another 14+ new widgets in the Pro version. The Pro version includes some unique widgets such as PayPal button, Whatsapp chat widget etc.
Crocoblock is a set of different WordPress plugins that help you build websites with Elementor. It is the ultimate toolkit for building websites with Elementor. Crocoblock contains all the JetPlugins (a suite of 18 different plugins that add new widgets and visual effects to Elementor) as a package and offers a great collection of pre-made templates. Besides, the Crocoblock bundle lets you add top quality designs to your website. You can personalize your site with its elements such as Post, WooCommerce, Popup & more.
You can purchase some of these plugins individually. Or, you can buy one of their three bundles (E-Commerce, Design, Dynamic), each including 10 plugins. You can also subscribe to the all-inclusive CrocoBlock membership for access to everything.
Happy Addons for Elementor page builder promises to develop and take your WordPress webpage editing & designing capabilities to a whole new level. Created by the well known weDevs teams, the Happy Addons plugin is a solid option to enhance your page building experience. Packed with 35+ Elementor widgets and dozens more in the premium version, this add-on really does add to your Elementor options.
Some of the widgets are enhancements to basic building blocks, such as a post list, gradient heading, dual button, and info/icon box. However, the free version also gives you some unique options, including calendar integration to schedule meetings, Step flow, news sticker etc. The premium version adds a number of new widgets, including price menus, image hotspots, Facebook feeds, and more. The premium version starts at $39 for a one-year license and use on a single site or $149 for a lifetime license.
Also read: Best Affiliate WordPress Plugins
In spite of the name, this plugin is actually free-handed as for tools you get it at no cost! In fact, the addon offers free premium-like widgets for Elementor. Both Elementor and Premium Addons plugins take your WordPress website to the next level. It offers several free and premium widgets for each category, mainly focusing on advanced content, marketing, and image widgets within a free version.
Its blog widget layouts, creative image widgets allow for smooth scrolling and provide stunning grid concepts, as well as banners and modal boxes for promo sections. Blazing-fast widgets, intelligent and smooth modular design, flexible customization – all these features make the Premium Addons for Elementor plugin stand out from the rest of its counterparts. However, some widgets commonly offered as free by the competitors are premium in this plugin. Also, some heavily styled widgets can be counterproductive in terms of performance.
Qi‌ ‌Addons‌ ‌for‌ ‌Elementor‌ ‌is‌ ‌one‌ ‌of‌ ‌the‌ ‌largest‌ ‌free‌ ‌Elementor‌ ‌addon‌ collections‌ ‌on‌ ‌the‌ ‌web.‌ ‌It‌ ‌includes‌ ‌60‌ ‌powerful‌ ‌widgets‌ ‌that‌ ‌can‌ ‌help‌ ‌you‌ ‌build‌ ‌your‌ ‌website‌ ‌even‌ ‌if‌ ‌you‌ ‌know‌ ‌nothing‌ ‌about‌ ‌coding.‌ ‌All‌ ‌widgets‌ ‌are‌ ‌characterized‌ ‌by‌ ‌their‌ ‌intuitiveness,‌ ‌ease‌ ‌of‌ ‌use,‌ ‌and‌ ‌distinct‌ ‌modern‌ ‌design.‌ ‌Qi‌ ‌Addons‌ ‌for‌ ‌Elementor‌ ‌is‌ truly‌ ‌a‌ ‌remarkable‌ ‌pack‌ ‌that‌ ‌is‌ ‌fully‌ ‌compatible‌ ‌with‌ ‌all‌ ‌WordPress‌ ‌themes.‌ ‌And‌ ‌best‌ ‌of‌ ‌all,‌ ‌it's‌ ‌completely‌ ‌free.‌ ‌ ‌
With‌ ‌Qi‌ ‌Addons‌ ‌for‌ ‌Elementor,‌ ‌you‌ ‌can‌ ‌easily‌ ‌present‌ ‌every‌ ‌single‌ ‌aspect‌ ‌of‌ ‌your‌ ‌business‌ ‌–‌ ‌e.g.‌ ‌introduce‌ ‌your‌ ‌team,‌ ‌add‌ ‌pricing‌ ‌tables‌ ‌and‌ ‌testimonials,‌ ‌create‌ clients‌ ‌carousels,‌ ‌etc.‌ ‌‌You‌ ‌can‌ ‌build‌ ‌an‌ ‌engaging‌ ‌visual‌ ‌experience‌ ‌for‌ ‌customers‌ ‌with‌ ‌the‌ ‌help‌ ‌of‌ ‌its‌ ‌creative‌ ‌add-ons,‌ ‌include‌ ‌an‌ ‌attractive‌ ‌parallax‌ ‌showcase‌ ‌to‌ ‌your‌ ‌pages,‌ ‌and‌ ‌also‌ ‌display‌ ‌interactive‌ ‌links.‌ ‌
Anywhere Elementor is a useful Elementor addon plugin because it does a lot of stuff you get in Elementor Pro. It comes in both a free and a premium version. The free version of the plugin lets you create global widgets that you can use in multiple places. To update all locations, you just need to edit the widget once.I also help you to insert Elementor templates anywhere on your site by using shortcodes.
The Pro version of Anywhere Elementor gets more into theme building and lets you create a Single post layout, blog page layouts, Taxonomy archives etc. And it also has full support for custom fields and WooCommerce. In addition, Anywhere Elementor supports Pods and ACF relationship fields to display post collections. You can dynamically set the background of a section based on ACF custom fields. The pro version costs you $25 for a single site license and up to $99 for unlimited sites. There's also a lifetime license for $249.
Elementskit is an ultimate all in one addon for Elementor Page Builder. It includes most comprehensive modules, such as Header Footer Builder, Mega Menu Builder Layoutkit etc under the one hood. It has 55+ custom widgets to create any sites with ease. It has some unique and powerful custom controls for Elementor, such as Image Picker, Ajax Select2, Advanced Widget and many more.
With ElementsKit comes Layout library features where over 7+ ready-made homepages and 300+ ready-made sections are available. You can enable/disable specific elements from the ElementsKit option panel to prevent overloading your website with extra CSS or JS code you will not use which helps your website have a blazing fast performance.
Also read: Best Appointment Booking WordPress Plugins
Flexible Elementor Panel is a free addon that doesn't add any new design functionality to the page builder but lets you customize the Elementor panel. If you decide to use some of the other Elementor add-ons on this list, it will come in super handy. Flexible Elementor Panel gives you a ton of ways to manipulate the Elementor panel (the sidebar that contains your widget lists, settings, and more). You can Resize, Collapse or Drag the panel anywhere, Choose a dark skin if you prefer, Sort widget categories, etc.
Basically, if you have both Elementor Pro and some other third-party Elementor widgets, your side panel is going to be super busy. Flexible Elementor Panel helps you organize it better so that you can find the widgets you need more quickly.
ShopEngine is a complete yet lightweight suite of WooCommerce solution for Elementor with blazing fast loading speed. ShopEngine helps you build and customize the single product page, cart page, archive page, checkout page, order page, my account page, and thank-you page from scratch. Apart from featuring the product comparison, wishlist, quick view, and variation swatches, ShopEngine comes with 50+ drag-and-drop Elementor widgets to let you build and customize your eCommerce website to your heart's content.
It is also compatible with most of the popular themes and comes with multi-language support. It is also very user-friendly and does not require any coding skills to use it.
Droit Addons for Elementor is an extension plugin for Elementor page builder that aims to simplify and amplify users' Elementor experience and give more creative liberty with more customization options. From designing exclusive modern business web layouts to interactive e-commerce product galleries, Droit Addons can do a lot more in no time, saving you both time and money.
Right now, Droit Addons for Elementor comes with 70+ super handy free/pro widgets, over 250+ meticulously crafted pre-built element blocks, 25+ page templates and so much more with more additional widgets, features, and modules under development. It's even compatible with other powerful plugins such as WooCommerce, WPML, and others.
Conclusion
The choice of top free WordPress plugins for Elementor is huge. Since all of them are one click away, you can test-drive these addons on your WordPress installation to make sure the one you chose meets your requirements or else you can check the reviews and rating and then select an addon. Every customer has the option of posting a review and rating. If an Elementor addon is not great, its reviews and ratings will speak for themselves. On the other hand, the number of active users shows the credibility of the product too.
Have any questions about these Elementor add-ons? Want to share an extension that you find useful but didn't make this list? Let us know in the comments!